Submitted by Michael Dempsey on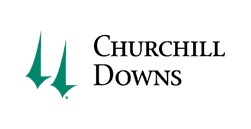 Churchill Downs is located in Louisville, Kentucky and is best known for hosting the Kentucky Derby on the first Saturday of May. The racetrack opened in 1875, and currently runs in the spring and fall each year.
In 2009 Churchill Downs installed lights and ran its first night card. Racing on Friday nights has been popular among fans and horseplayers.
Churchill Downs has hosted the Breeders' Cup on eight occasions, the last in 2011.
Other big races run under the Twin Spires each year include the Kentucky Oaks for top three-year-old fillies. The race is run a day before the boys go at it in the Kentucky Derby.
At the spring meeting the Stephen Foster Handicap brings together many of the top older horses in training, as does the Clark Handicap, which is run at the fall meeting.
At the 2012 fall meeting Dale Romans and Ken McPeek tied for the trainer's title with 14 winners apiece. Corey Lanerie led all jockeys with 29 winners, five more than runner up Shaun Bridgemohan.
At the 2012 spring-summer meeting Romans won the trainer's title with 23 winners while Lanerie dominated the jockey colony, booting home 71 winners.
The racetrack attracts many of the top jockeys in the U.S. including Robby Albarado, Calvin Borel, Julien Leparoux and Miguel Mena.
Graded Stakes run at Churchill Downs:
Grade 1
Clark Handicap     
Humana Distaff Handicap     
Kentucky Derby     
Kentucky Oaks
Stephen Foster Handicap
Turf Classic Stakes
    
Grade 2
Chilukki Stakes
Churchill Downs Stakes
Falls City Handicap
Firecracker Breeders' Cup Handicap
Fleur de Lis Handicap
Golden Rod Stakes
Jefferson Cup Stakes
Kentucky Jockey Club Stakes
Louisville Stakes
La Troienne Stakes
Mrs. Revere Stakes
Pocahontas Stakes
Grade 3
Ack Ack Handicap
Aegon Turf Sprint Stakes
Alysheba Stakes
Aristides Breeders' Cup Stakes
Bashford Manor Stakes     
Cardinal Handicap
Churchill Distaff Turf Mile Stakes
Debutante Stakes
American Turf Stakes
Dogwood Stakes
Mint Julep Handicap
Iroquois Stakes
Kentucky Stakes
Eight Belles Stakes
Locust Grove Handicap
Louisville Handicap
Northern Dancer Stakes
Regret Stakes
River City Handicap
Commonwealth Turf Stakes
Derby Trial Stakes